Events
Ethiopia: CAO Convenes Video Conference with Civil Society Organizations
06 May 2019 Middle East & North Africa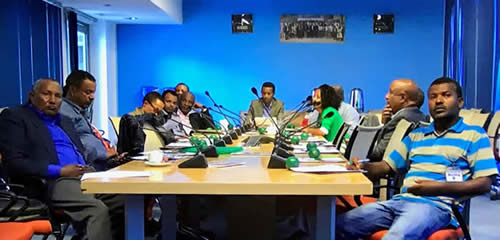 CAO organized an outreach meeting via video conference with Ethiopian civil society organizations (CSOs) on May 2, 2019 to provide information on its accountability work and listen to their concerns. The event, which took place at the IFC country office, was co-hosted with Transparency International Ethiopia, and included the participation of the World Bank's Inspection Panel. This meeting follows similar video conferences held with civil society in the Africa region over the past two years in keeping with CAO's mission of disseminating information about its accountability services to various stakeholders, namely affected communities and CSOs.

Some 20 NGO and community leaders from Addis Ababa and surrounding areas participated in the two-hour session. CAO and Inspection Panel staff based in Washington made a joint presentation outlining their respective mandates, which includes compliance and advisory work, as well as dispute resolution at CAO. They also shared lessons from specific cases in the region. The presentation was followed by a general discussion where participants asked what complaints had been received from communities in Ethiopia; how isolated communities know that a development project is funded by the IFC or the World Bank; the role of government in the accountability process; and how CAO and IFC handle conflicts related to a complaint and promote conflict prevention, among other issues.

After the outreach meeting, civil society representatives had an opportunity to meet with the IFC Country Manager, Adamou Labara, to discuss IFC's investment portfolio in Ethiopia and its environmental and social standards. Commenting on the meeting, Mr Labara noted that: "This dialogue allows us to better understand each other, particularly the complementary roles the IFC and CSOs play, and how to improve future collaboration for sustainable development in Ethiopia". Kibreab Lomencho, Manager at Transparency Ethiopia, added that "The meeting helped CSOs learn about the existence and work of the accountability mechanisms, information they can now share with their constituencies and CSO participants also found the meeting with the IFC Country Manager on IFC's investment portfolio in Ethiopia quite informative and useful." CAO's Vice President, Osvaldo L. Gratacós, added "These video conference outreach meetings provide us with an opportunity to engage with civil society stakeholders at the country level. We greatly appreciate the collaboration of IFC country management and staff in organizing these events".