News
Advancing Civil Society in Nepal
09 Jun 2022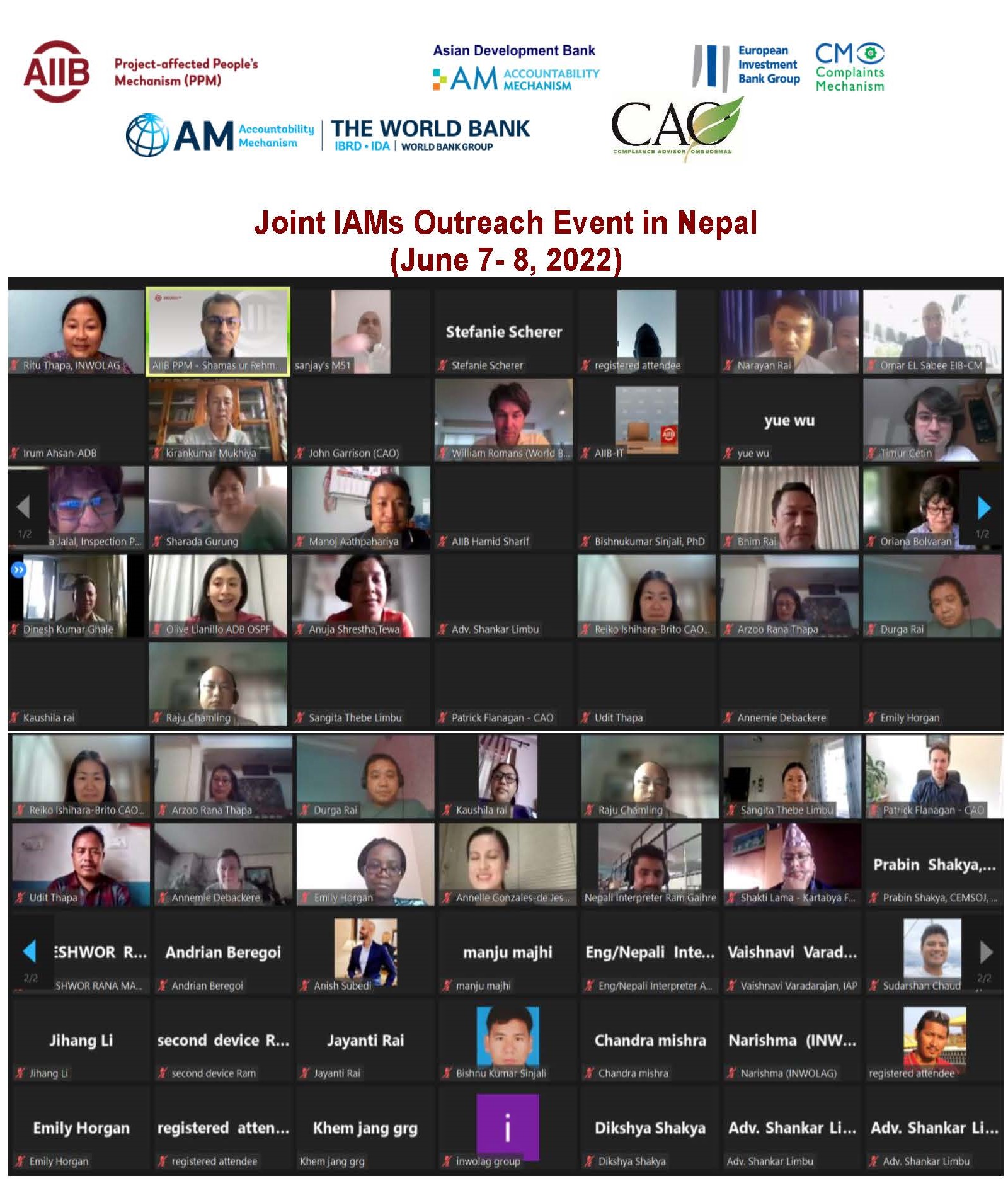 CAO co-hosted outreach sessions with other independent accountability mechanisms (IAMs), geared towards civil society organizations in Nepal from June 7 to 8. Representatives from about 45 organizations from various Nepali regions took part in the webinar. Community groups throughout Nepal shared their experiences submitting complaints to various accountability mechanisms. While these groups noted their appreciation for the role of the mechanisms, they expressed concerns about the lengthy problem-solving and compliance processes and indicated difficulties in obtaining effective redress for grievances.
The webinar served to inform Nepali civil society about the dispute resolution and compliance work of the accountability mechanisms, promote dialogue between the mechanisms and civil society, and to learn of their experiences and concerns related to promoting accountability in projects multilateral development banks finance in Nepal. Five independent accountability mechanisms co-hosted the event, including the Project-affected People's Mechanism of the Asian Infrastructure Investment Bank, the Accountability Mechanism of the Asian Development, the Compliance Mechanism of the Bank European Investment Bank, the World Bank Accountability Mechanism, and the Office of the Compliance Adviser Ombudsman of IFC. Several leading civil society organizations in Nepal working on community development, human rights, and accountability co-organized and participated in the event.
The seven-hour webinar included a joint presentation on the investigative and dispute resolution work of the mechanisms and several civil society sessions on the role of international development actors in Nepal. The sessions generated interactive discussions about concerns and questions participants raised. These included the possible suspension of projects complying with the environmental and social safeguard policies of international financial institutions, how IAMs can protect communities that experience reprisals by governments or company officials, and the need to better integrate accountability procedures to simplify complaints resolution processes.
More outreach sessions to other regions, including in the Balkans and the Middle East, will take place in the coming months.